Is

there a more versatile herb than garlic? Garlic can be grown in multiple climate zones and in the smallest of garden plots. Fresh garlic provides the pungent bite in so many cuisines—Italian pesto, Greek pasta, Asian stir fries, French cassoulet, South American chimichurri. But when slowly roasted, the crisp heat of fresh garlic transforms to a creamy sweetness. The result is amazing, but is achievable by anyone—even a novice cook. Here is how to make the magic happen in your kitchen.
Cook Time
Prep time: 5 min
Cook time: 30 min
Ready in: 35 min
Yields: each head of garlic provides about 1 tablespoon
Ingredients
1 head of garlic, (see note below)

2 tsp. olive oil
Other equipment you will need
ovenproof dish

heavy-duty aluminum foil

small sharp knife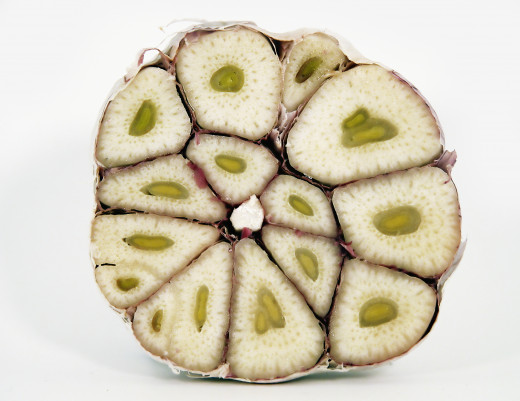 Preheat your oven to 400 degrees F.

Remove any loose papery skin from the garlic but leave the head of garlic intact. Cut about one-half inch off the top of the head of garlic--enough to expose the interior of the garlic cloves. Place the garlic head in the ovenproof dish, cut-side up. Drizzle the oil over the garlic. Cover with foil and bake in a preheated oven for about 30 minutes or until garlic feels soft (pierce with tip of sharp knife to test).

Set aside until cool enough to handle. Squeeze the garlic cloves from the bottom to release the roasted garlic pulp, which should now be sweet, creamy, and golden brown in color. The resulting roasted garlic pulp can be spread on bread, mixed with softened butter, stirred into dips, or added to sauces. The only limit is your imagination.

Cooks Note: A good head of garlic should be plump and firm, with no visible mildew, spoilage, or shriveling and very little if any sprouting (the green sprouts can be bitter).